Antipasti burgers (VG)
If you thought vegans didn't get to eat tasty burgers, these will change your mind...
FEEDS 2 READY IN 35 MINS, PLUS 20 mins chilling
½ red onion, finely chopped
1 tbsp Co-op olive oil
½ clove garlic, finely chopped
3 Co-op sundried tomatoes, finely chopped
5 Co-op pitted black olives, chopped
3 Co-op roasted peppers, finely chopped
400g can butter beans
20g white breadcrumbs
100g tenderstem broccoli
Juice of 1/2 lemon
2 Co-op white rolls, halved
1 tbsp Co-op fresh tomato salsa
Handful Co-op mixed leaf salad
Cook the onion in half the oil for 5 mins, until starting to soften, then add the garlic and cook for 1 minute more. Add the sundried tomatoes, olives and peppers, stir and set aside.
Mash the butter beans in a bowl, adding a little water to loosen if needed. Add the tomato mixture, season, then stir in the breadcrumbs.
Form the mixture into 2 patties, wrap in clingfilm and chill for 20 mins.
Heat the rest of the oil in a pan and fry the burgers and broccoli for 6-8 mins, turning halfway through, until the burgers are golden and the broccoli is charred. Toss the broccoli in the lemon juice.
Add the salsa, burgers and salad leaves to the rolls, and serve with the broccoli on the side.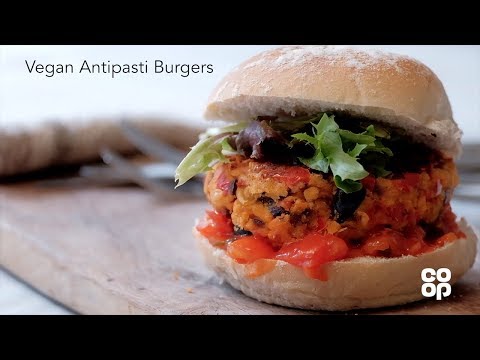 Thai green curry (VG)
This healthy, zesty dish easily doubles up to feed a crowd.
FEEDS 2 READY IN 35 MINS
½ onion, sliced
1 tsp vegetable oil
½ head Co-op British cauliflower, cut into florets
1 potato, chopped
2 Co-op British carrots, sliced
2½ tbsp Co-op Thai green curry paste
150ml reduced fat coconut milk
250ml vegetable stock, made with 1/2 vegan stock pot
100g fine green beans
Co-op light soy sauce (optional)
50g Co-op frozen peas
1 lime (½ juiced and zested, ½ cut into wedges)
250g pack Co-op microwave basmati rice
Fry the onion in the oil for 5 mins, then add the cauliflower, potato and  carrot and cook for 3 mins more.
Stir in the curry paste, cook for 1 minute, then add the coconut milk and stock and simmer for 15 mins.
Add the beans and soy sauce to taste, if using, simmer for 3 mins, then add the peas and simmer for 1 minute more, until defrosted. Add the lime juice, then cook the rice according to the pack instructions.
Scatter the zest over the curry and serve with the rice on the side.
Vegan all-day breakfast (VG)
Trade your bangers for brilliant veggie ones with this tasty twist.
FEEDS 2 READY IN 35 MINS
2 Co-op frozen hash browns
4 frozen vegan sausages
2 tomatoes, halved
2 tsp Co-op olive oil
200g Co-op chestnut mushrooms, quartered
1 tsp fresh thyme or 1/2 tsp dried
1 tbsp balsamic vinegar
1/2 x 420g can baked beans
Brown sauce (optional)
Preheat the oven to 220°C/fan 200°C/Gas 7. Cook the hash browns according to the pack instructions, then set aside and keep warm.
Grill the sausages and tomatoes for 15 mins, turning occasionally.
Meanwhile, heat the oil in a frying pan, add the mushrooms and thyme, season, and fry for 8-9 mins, until golden. Add the balsamic vinegar and cook for 1-2 mins more.
Heat the beans through on the hob, then serve with the hash browns, sausages, tomatoes and mushrooms. Add a dollop of brown sauce, if using.
Vegan bangers
Have a go at making your own vegan sausages
MAKES 6 SAUSAGES
READY IN 1 HOUR 30 MINS
2 tsp Co-op olive oil
½ onion, finely chopped
100g chestnut mushrooms, finely chopped
400g can Co-op cannellini beans
1 tbsp sundried tomato paste
3½ tbsp Co-op plain flour
½tsp dried oregano
1 tsp smoked sweet paprika
1 Heat half the oil in a frying pan and cook the onion over a medium heat for 4-5 mins, until softened. Add the mushrooms and cook, stirring occasionally, for a further 4-5 mins, until they are golden and any liquid has evaporated. Set aside until cool.
2 Drain the beans and pat dry with kitchen towel. Add to a bowl with the cooled onion and mushrooms, the tomato paste, 3 tbsp of the flour, the oregano and sweet paprika. Season to taste and blitz until you have a thick mixture. Place in the fridge for at least an hour.
3 Divide the mixture into 6 and, with damp hands, roll into sausage shapes. Dust the sausages with the remaining flour and heat the remaining oil in a large, non-stick frying pan. Cook the sausages over a medium heat for 6-8 mins, carefully turning occasionally, until golden and crisp all over.
THIS MONTH WE'RE LOVING: CO-OP DOUGHNUTS You won't believe these delicious custard doughnuts are vegan, and there's more great vegan ideas here.
Baked potatoes with spicy chickpeas (VG)(GF)
An easy vegan dish, this will warm up those cold winter nights.
FEEDS 2 READY IN 1 HOUR 15 MINS
2 baking potatoes
½ red onion, chopped
1 tbsp vegetable oil
1 clove garlic, finely chopped
½ tsp chilli flakes
½ tsp paprika
½ tsp cumin
¼ tsp ground coriander
400g can chickpeas, drained and rinsed
½ tbsp tomato purée
400g can Co-op chopped tomatoes
200g baby spinach
Preheat the oven to 200°C/fan 180°C/Gas 6. Prick the potatoes all over and bake directly on the middle shelf of the oven for 1 hour 15 mins, until crispy.
Meanwhile, fry the onion in the oil for 5 mins, then add the garlic, chilli flakes, paprika, cumin and coriander, and fry for 1 minute more.
Add the chickpeas, tomato purée, chopped tomatoes, and 200ml water. Season, then simmer for 30 mins. Add the spinach for the last minute of cooking.
Serve the baked potatoes topped with the spicy chickpea mixture.
Reader test, Fiona Elliot, Poole
'This was a really easy dish to prepare and very filling too, thanks to the chickpeas and spinach. We loved it, and I froze the leftovers to use another day.'